Kids Bentley Ride on Car EXP12 Model for kids with 2.4G Parental remote control. The 12v Bentley EXP12 ride on car is based on Bentleys concept car. This battery powered Bentley EXP12 Car is an ideal gift for young kids. It is the perfect car to sit in that has the sleek and elegant looks of the original but at a fraction of the price!
JE1166 Kids Bentley Ride on Car can be controlled either by a child using the steering wheel and foot pedal or for extra safety the parents can over-ride the controls at any time using a 2.4G parental remote control which can steer the car forwards, backwards, left and right; this is a very useful feature for children who cannot reach the pedal or cannot yet control the car.
Bentley Kids single seated sports car has lots of incredible features such as a working horn, working headlights, various sounds, steering wheel, wing mirrors, gear stick and realistic looking alloy wheels. The Kids Bentley Ride on Car has a 12v rechargeable battery that lasts for an amazing 1.5 hours and has a unique speaker system enabling realistic engine sound effects.
Features l Kids Bentley Ride on Car
Car: Bentley EXP12
Specifics
Colour:
·       White, Black, Red, Green

Functionality:

       

       Drives forward, backwards, left, right

 

Start Feature:

·       Push Power Button

 

Remote Option:

 

·       Parental full function remote control

 

In Car Entertainment:

 

·       Engine Sounds

 

Door Behaviour:

 

·       Doors fully open

 

Safety Features:

 

·       Seat Belt

 

Lighting:

 

·       Working Headlights

 

 Battery Power:

 

·       Rechargeable 12V battery (2x6V) and mains charger

 

Top Speed:

 

·       3-4km/h

 

Engine:

 

·       2x30W motor

 

Max Load:

 

·       25kg

 

Suitable Age:

 

·       3-5 years old

 

Length x Width x Height (cm):

 

·       108X60x43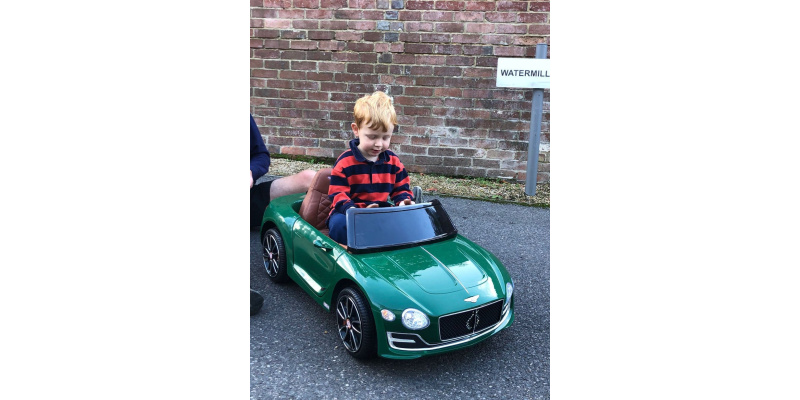 Check out our full range of Bentley Ride On Cars or our other 12v ride on cars.