Estimated reading time: 5 minutes
Have you recently bought your son or daughter a quad bike or a dirt bike? Are you now trying to find a good place for your child to ride their quad bike? If so, then this guide is perfect for you and your family.
In our guide, we answer your question: "Where can you ride a dirt bike or quad bike?" outlining the key places in the UK where your child can ride his or her quad bike. Keep reading to find out all the best places for bike riding.
On Private Land
In the United Kingdom, kids' electric toy cars, such as quad bikes, can only be ridden on private land or areas that are designated specifically for quad biking. Do you live on a farm or do you own a farm where you can go on vacation? If so, then this is the perfect piece of land where your child can ride their quad bike or dirt bike safely.
Do you have any other private land, or do you know a friend or a family member who has any? If you answered yes, then this could be another option where your son or daughter can ride their quad bike.
In a Garden
You can have your child ride his or her quad bike or dirt bike in your own private garden. If your friend or a family member has a garden or yard, you can also take your child there to ride their bike. Be sure your kid has plenty of adult supervision, especially if it is one of their first times riding his or her quad bike.
Your children can ride their quad bikes on all sorts of terrain, from rocky roads to muddy hills, so no matter how your garden is lay out, a quad bike will be enjoyed on every terrain.
A large garden can be the best place for kids to ride their bikes. In addition, this can be a great place for kids to learn how to ride their quad bikes.
If you do choose to teach your child to ride a quad bike in a garden, you should be aware that petrol quad bikes can be somewhat loud. As such, you'll want to make sure your garden is not too close to other homes. For a quieter ride, you'll need to choose an electric quad bike for your son or daughter.
On Dedicated Land for Quad Biking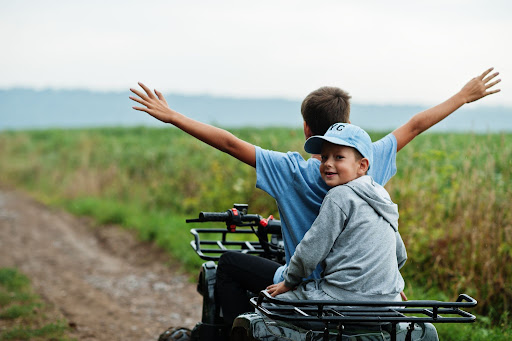 In case you don't have any piece of land but want your child to have a dirt bike, you might still be wondering, "Where can you ride a dirt bike or quad bike?"
You'll be glad to learn that dedicated land in the United Kingdom is specifically set aside for quad biking. The right places for off-road quad biking or dirt biking in a public setting are those dedicated lands meant for biking.
These dedicated land spaces are child-friendly and require parents to attend in order to properly supervise their kids. These dedicated grounds are tracks and locations built specifically for quad biking around the UK.
Such places tend to have woods to ride through, inclines and declines, muddy areas, hills, large puddles, ditches, and fields. You may also have access to instructors at these locations as well as safety equipment. If your children have been riding for years, you might take them to practice tracks where they can race their quad bikes at high speeds.
On the other hand, you'll want to avoid public places if you want to ride a dirt bike or quad bike, so stay away from parks, council estates, footpaths, public land, and restricted byways or roads.
Can My Child Ride His or Her Quad Bike on Public Streets?
Throughout the United Kingdom, there are only certain electric bikes or vehicles that can be legally ridden on a public road, street, or public, paved driveways. Generally, children cannot ride their quad bikes on public streets. They can definitely ride their quad or dirt bikes on private land, but public streets are often off-limits.
You cannot have your child ride their quad bike on council land such as parks. Only if there is a specifically designated space in a park for quad bike riding will your child be allowed to ride this vehicle. However, as previously mentioned, there are commercially operated parks where kids can ride their quad bikes.
Remember: your child will likely not be allowed to ride his or her bike on public streets, including restricted byways, public bridleways, and common land. However, it is legal to ride dirt bikes on Public Right of Ways roads.
The best places for your kids to try quad bike riding are likely private land spaces, such as a farm or a private garden.
Conclusion
You and your children can go off-roading on a quad bike or dirt bike on some private farmland or at an adventure park designated for off-road vehicles. For example, the Ashby NPF Bassetts Pole Adventure Park looks like a jungle and displays artefacts and statues with plenty of hills and muddy trails, bridges, and water ditches to enjoy racing in for kids above age 11.
You can also enjoy designated land where your child can ride through forests, hills, and fields. Lastly, you can always teach your son or daughter to ride their quad bike in your own garden, yard, or private farmland. Ask any of your family members or friends who own private land if your kids can ride their bikes on their property.
Be sure to avoid driving off-road vehicles on public streets or public driveways and roads. You can, however, ride a dirt bike or quad bike on Public Right of Ways roads.
Wherever you decide to go biking, enjoy a nice afternoon outdoors having fun with your children. You won't regret spending time with your family!