Estimated reading time: 6 minutes
Congratulations! You've just bought your child their first kids electric car, and they're already mastering the art of donuts all over your garden lawn. But there is one thing that they keep asking you, 'please can it go faster?'. Or maybe you've noticed the Jones's at number 33 has a faster kids car than your childs? Well, we don't blame you for wanting to get as much out of your kids electric car as possible; you've felt the need, the need for speed! So don't worry, here at Electric Ride on Cars we have your back.
In this guide we'll talk you through how you can modify your kids 6v electric ride on car, 12v electric ride on car, and even the much beefer 24v electric ride on cars, not just for speed, but so your kids have the most badass modified kids electric car in the neighbourhood. So strap in, check your wing mirrors, and enjoy the ride!
Can you modify a kids electric car?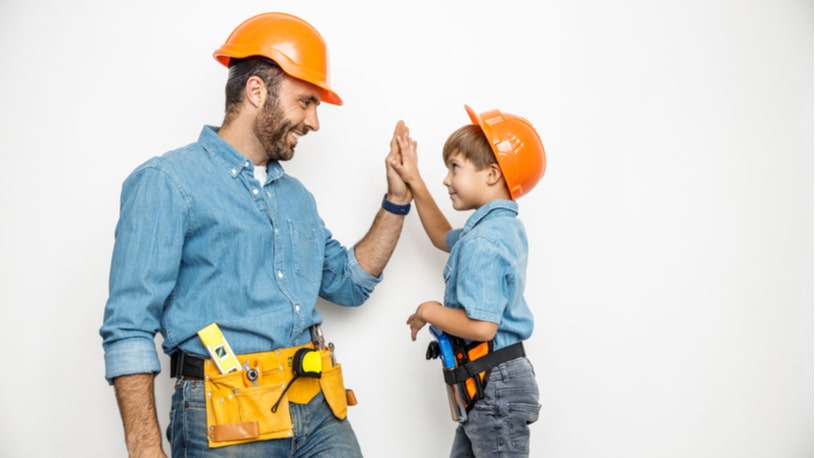 Yes, modifying your kids electric car has become increasingly popular amongst parents. There are lots of ways you can modify a kids electric car, including:
Cosmetic modifications like paint jobs or sticker kits
Engine/battery modifications to give your kids electric car a power boost
First of all, there are a few important reminders we need to get out of the way first.
Modifying your kids electric car, specifically the battery, will void your warranty. So if you're dead set on modifying your kids electric car, be mindful you are doing this at your own risk. 
We recommend extreme caution when modifying your kids electric ride on car. As with any DIY modifications, there are risks to the vehicle's integrity and electronics. You don't want any nasty shocks! 
Please make sure that there is proper adult supervision at all times. Safety first people! 
Cosmetic modifications for kids electric cars
Always wanted your kids to have a personalised number plate? Or how about a barbie pink paint job? Cosmetic modifications are by far the easiest and safest option to modify your kids' electric car. There are countless ways in which you can obtain cosmetic modifications across the internet.
Let's run through different ways to add cosmetic modifications for your kids electric car:
Personalised Number Plates – We offer personalised number plate stickers and decals for ride on cars. Alternatively, a quick search on the internet will bring up numerous results for personalised number plate stickers with various colour options available.
Repainting ride on cars – Want a rad new colour for your kids ride on car? Maybe you want the colour to match your kids favourite super hero costume, or hot pink to match your kids favourite barbie doll? Make sure you buy a spray paint that's designed specifically for plastic. You'll need to remove the body from the vehicle and remove any stickers before you start painting.
Upgrade your wheels – We offer additional wheels for electric ride on cars, so whether you want to replace or upgrade a wheel or set of tyres for your kids car, we have you covered. A quick search on the internet will bring up plenty of choices across popular reseller sites.
You can also get creative – there is literally nothing stopping you from allowing your creative juices to flow. Unwanted items around the house or garage could be re-used to add upgrades onto your kids electric car. If you, a family member or friend is handy at DIY, you could create a new spoiler, or perhaps add some flashy new lights underneath the car. The possibilities are endless.
Engine & battery modifications for kids electric cars
Ride on car battery or Engine modifications are the best way to add additional power and speed to your kids electric car. It's not uncommon for kids' electric cars to have weaker batteries than the maximum input of power the motor will allow, to ensure that the maximum speed is limited. So simply upgrading to a more powerful battery can provide additional power benefits to the motor to provide additional speed.
However, if, after experimenting, the battery is not the limiting factor with the power and speed of your kid's electric ride on car, it's possible that the car could be fitted with a lower draw motor. This would mean replacing the motor to a more powerful motor.
Check out our spare parts for ride on cars where you can see a wide selection of batteries, chargers, wheels and other accessories for your kids electric car.
How to make a 6V power ride on cars faster
Our range of electric ride on cars for kids start at 6 volt powered batteries. When driven on flat hard surfaces these should reach speeds of 2 to 3 miles per hour. The 6 volt range of ride on cars are suitable for kids aged 2 to 4 years old.
However, if your child is at the higher end of the age range, and wants to get a bit more power out of the vehicle, upgrading to a 12v battery or motor could provide an additional boost of power and speed.
How to make a 12V power ride on cars faster
12 volt motors can easily get up to speeds of 3 to 5 miles per hour on flat surfaces and low cut grass, but if that doesn't pack enough punch for your child. Increasing to a 24 volt motor can add an extra 2 miles per hour to the speed of the vehicle.
Please be mindful that 12 volts and 24 volts is a much higher jump in output compared to 6 volts to 12 volts, so you should carefully test this upgrade in power before allowing your children to drive a modified ride on car. We recommend that modified 24 volt ride on cars are suitable for children aged between 4 to 8 years old only.
How to make a 24V power ride on cars faster
As with any increase in voltage power output, the speed increases. As soon as you increase the output to above 24 volts, the speed will rise much more quickly. Using a 36 volt battery or motor could increase the speed to up to 15 miles per hour.
However, 24 volt ride on cars can easily hit 6 miles per hour. For children up to the age of 8 years old, there is not really a reason or a need to upgrade the speed and power any further.
6 miles per hour for your kids is certainly fast enough, even for a drag race in your garden with their friends. 
Our best selling kids electric cars
Strap in, get set, and go! We've handpicked some of our best selling electric kids cars we think your kids will love!