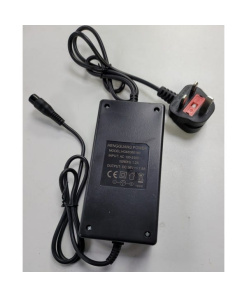 Out of stock
---
A misplaced or broken electric car charger doesn't have to mean it's the end of your little one's ride on car fun! At Electric Ride On Cars, we'll keep you kid cruising around in style with a spare or replacement charger. Find the model that's right for your kid's ride on car and buy online today for fast, FREE UK delivery!
Don't let the behind-the-wheel fun stop!
Just as you'd expect more than one petrol pump or EV charger at your local petrol station or charging point in case of malfunction, you might also want to invest in a backup kids' ride on car charger. We stock spare and replacement chargers that are compatible with all the makes and models in our huge range of
kids' electric cars
.
Our ordering process couldn't be simpler. Just select the charger that's suitable for your child's car, add it to your cart, and proceed to checkout to complete your purchase. We don't want to keep your little drivers waiting too long to get back behind the wheel, so we aim to pick, pack, and dispatch all orders within two working days.
How do I know what charger is right for my electric ride on car?
The best way to be sure that your spare charger will work with your kids' ride on car is to select the model that's listed as being compatible with your car's make and model. This information can be found in the item description provided with each product.
FAQs about kids' electric car chargers
What is the age range for a kids' electric car?
Here at Electric Ride On Cars, we have a wide range of kids' electric cars that are suitable for every different age range. For very young children aged between 18 months and 2 years, we recommend simple and manual ride on toys such as balance bikes and
toddler ride on cars
. Balance bikes help your baby develop their balance while toddler ride on cars are great for your baby's motor skills.
Read our dedicated
age-by-age guide to buying kids ride on cars
for more advice on which electric ride on car should buy.
How long does it take to charge a kids' electric ride on car?
Most of our ride on cars will be partially charged when they're delivered to you. The first time you charge the battery, we suggest you leave it on charge for around 10 hours.
After this, we recommend charging the ride on car for 6 hours for a 6v car, 8 hours for a 12v car, and 10 hours for a 24v car or buggy. We wouldn't recommend leaving it to charge overnight.