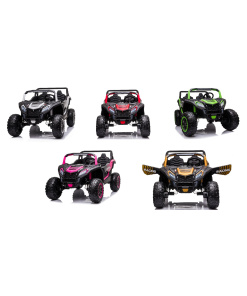 Out of stock
---
Give your kids a sense of adventure with an electric ride on 4x4 buggy or UTV. These ride on 4x4 buggies offer the perfect blend of adventurous freedom and controlled safe play. Your kids will love whizzing about your house or garden in an electric kids quad buggy.
Some of our ride on 4x4 buggies are two seated as well, so you can have more than one kid riding around at a time. Ride on 4x4 buggies come complete with MP3 and USB capabilities to play music, plus rear suspension springs and working lights, for added realism.
Alongside our kids buggies and UTVs, we also offer an incredible range of kids electric quad bikes and other kids bikes for you to consider.
FAQs about kids electric buggies
Are ride on buggies safe?
Electric ride on cars and buggies are safe for your kids to drive around in. Complete with parental remote controls for additional safety, these ride on 4x4 buggies have a number of safety features. They come with seatbelts, rear suspension, rubber tyres for grip and frames that are specifically designed to minimise impact.
What ages are these ride on buggies suitable for?
Our ride on 4x4 buggies are suitable for kids aged 3-5, but some products may vary, so make sure you check the individual product specifications.
Where can ride on 4x4 buggies be used?
We would always advise your children to use ride on 4x4 buggies in the supervision of a parent or another adult. They should not use them on a road, but instead keep to safer environments like the garden, a yard, driveway or inside a house.