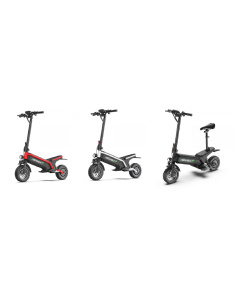 Out of stock
---
Our electric scooters are a fantastic gift for all ages! We have a wide range of kids electric scooters available to buy, including foldable electric scooters, electric scooters for boys and electric scooters for girls.
Why not consider electric scooters with seats or adult electric scooters with seats if you're looking for a comfy ride. Both kids and adults options are available to pick from. We also have several adult electric scooters which are perfect for older children with experience riding and adults to use.
Shop electric scooters for adults and electric scooters for kids.
Are electric scooters legal?
Historically, e-scooters haven't been legal for public use in the UK. There has been a recent update to the law though and they will be made legal soon. Until then though, you may still get in trouble for using one in public and should stick to using your e-scooters on private land as they are personal light electric vehicles.
Learn more about electric scooter laws.
Can I use an electric scooter on the road?
As it stands, you can't use electric scooters on public roads. The upcoming change to the law, as announced in the Queen's Speech in May 2022, will change this and you'll be able to use an electric scooter on the roads as long as you stick to the laws of the road and wear the required safety equipment.
When the law changes you will be able to use an electric scooter on public roads and in cycle lanes.
Are e-scooters safe?
Yes! When electric scooters are used properly they are safe. Any form of electric road vehicle will put you at risk, but when used responsibly, sticking to the laws of the road, with the right safety equipment, electric scooters are safe.
How fast are electric scooters?
Electric scooters are capped at 15.5mph as their maximum speed. This maximum speed has been created to make sure e-scooter users, pedestrians and road users are kept safe. The top speed of our kids e-scooters may be lower for safety reasons.
Is there an age limit for electric scooters?
We wouldn't recommend anyone under the age of 16 riding our electric scooters for adults. This is due to the size, power and top speeds.
We have a range of electric scooters for kids that are excellent for children.