Planning to raise a family is a wonderful, exciting time for people, however, there are many important decisions to be taken into consideration. One of the most important is where in the country to settle down, choosing the perfect place to plant roots can be a crucial choice.
By analysing multiple factors across towns and cities in England, such as schools, homes, childcare, and quality of life the best places to raise a family have been revealed. There are plenty of places that provide a high level of life across the country, the following are the best for raising a family.
Top five cities for raising a family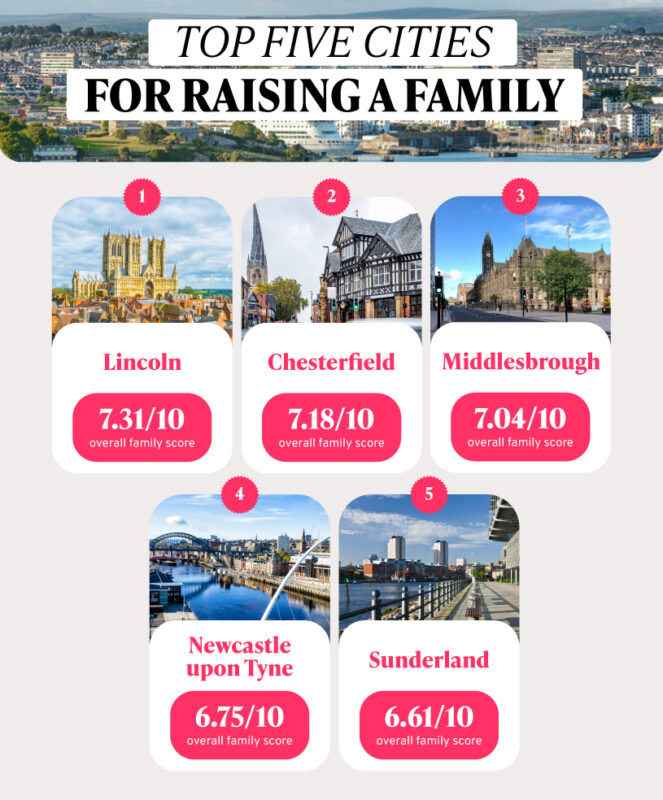 1 – Lincoln, overall family score of 7.31/10:
The best city to raise a family in is the historic cathedral city of Lincoln in the East of England, Lincoln has the highest air quality anywhere so you and your family can breathe easy. The overall score of 7.31 is 2.34 higher than the average of 4.97.
2 – Chesterfield, overall family score of 7.18/10:
The Derbyshire town of Chesterfield is the second-best place to raise a family with a score of 7.18, which is 2.21 higher than the average score. There are almost 30 schools per square mile on average in the Chesterfield area, it also scores well for safety and air quality.
3 – Middlesbrough, overall family score of 7.04/10:
Middlesbrough has a reputation as a tough working-class town in the North East of England, historically known for shipbuilding and coal mining. However, it is now one of the best towns to raise a family, and one of only three places to score over 7/10.
4 – Newcastle upon Tyne, overall family score of 6.75/10:
Newcastle is the biggest city in the North East of England, and it is also the most populous city to rank in the top five best places to raise a family. Although not scoring very high in any single category, Newcastle is incredibly consistent with top 20 scores for every factor.
5 – Sunderland, overall family score of 6.61/10:
Sunderland is flourishing as one of the best places in the country to raise a family. Low average house prices help achieve this ranking, the average sale is £166,709. Moreover, the sea breeze helps provide good air quality, achieving a score of 87.5/100.
Best city for every category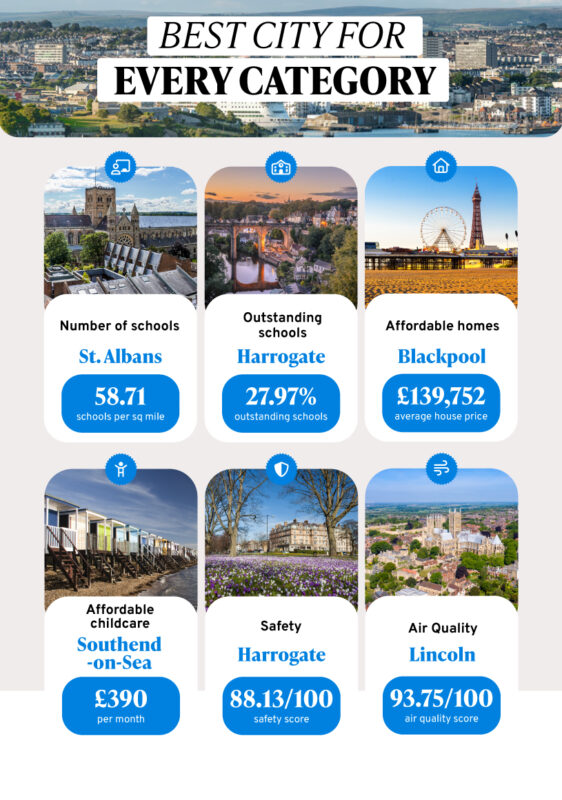 Number of schools: St. Albans – 58.71 schools per sq mile:
There has been a settlement at the site of St Albans for centuries, with the Roman city Verulamium being built there in around AD50. Therefore, it has had a long time to accrue a lot of schools, there are currently 411 in and around a city with an area of only 7 square miles.
Outstanding schools: Harrogate – 27.97% of schools are outstanding:
Harrogate is known as one of the more wealthy areas of northern England, with areas such as a "millionaires row" of seven figure value houses alongside the Stray. Home to some private schools, as well as a high rate of high-quality state schools. Almost 30% of them are rated outstanding by OFSTED in Harrogate.
Affordable homes: Blackpool – £139,752 average house price:
Blackpool has the cheapest homes on average of any of the towns and cities studied, average prices are £139,752. This is £165,528 lower than the average cost of £305,280, furthermore, it is an incredible £473,347 less than in Guildford.
Affordable childcare: Southend-on-Sea – £390 per month:
From the North West coast to the South East coast, we find another affordable town, but unlike Blackpool, childcare is inexpensive in Southend. The average cost per month of childcare is £390, considerably lower than Basildon (the next cheapest town) where it costs £500 per month.
Safety: Harrogate – safety score of 88.13/100:
Harrogate tops another category as it has the highest safety score of 88.13, meanwhile, the average score was only 54.96. Bradford has the lowest score with 29.97 and is, therefore, the most dangerous, only 20 miles of driving separate these two Yorkshire towns, but they are poles apart in terms of safety.
Air Quality: Lincoln – air quality score of 93.75/100:
The best overall city is also the best performing in terms of air quality, where it was one of only two places scoring over 90, the other is Telford. The average air quality score was high at 67.73, only 26.02 lower than Lincoln. Meanwhile, Doncaster is the worst scoring with a terrible air quality score of 15.

Methodology
The largest 200 towns and cities by population were compiled from the list on the geographist.
This list was whittled down by removing any town which we could not find complete data for.
Area in square miles was found from Wikipedia or Britannica.
Number of schools in a ten-mile radius was sourced from GOV.UK's search tool.
The same source was used to find the number of OUTSTANDING rated schools.
Number of schools was divided by area to find the schools per square mile.
Number of Outstanding schools was divided by the total number to discover the percentage of schools that are outstanding.
Average housing data was sourced from Zoopla.
Childcare, safety rating, and Air Quality were all sourced from Numbeo.
We then gave each town or city a normalised score out of ten for each factor, before taking an average across each score to reach our final scores.
Brought to you by Electric Ride On Cars, suppliers of the best kids electric cars in the UK.