Where in the country has the best and worst reviewed soft play centres?
One of the most popular destinations to keep young children entertained are soft play centres, not only because they're great fun for kids but also they're indoors – a great option for family fun when caught out by the unpredictable British weather! From electric ride on cars, to ball pits and bouncy castles, soft play areas have plenty to keep children entertained for hours at a time.
But which soft play centres across the country are the best rated, and where are the ones that don't have such positive reviews?
By looking at TripAdvisor reviews from visitors of soft plays up and down the country we have established which are the most poorly maintained, and have consequently generated the most complaints. By taking average scores from centres across the UK we have been able to determine which counties are home to the best and worst soft plays.
Where are the best-reviewed soft play centres?
Happily, we've found that plenty of soft play centres achieved very low dirtiness scores and customers felt they were well maintained with minimal complaints.
In fact, there were 29 centres throughout the UK that didn't have a single bad review for the cleanliness search parameters which we looked at. Four of these 29 centres were the only soft play centres in their county, so these Scottish areas all share the top spot scoring zero average negative reviews; Dumfries & Galloway, East Ayrshire, Lanarkshire, and West Lothian.
Surrey had the next least negative reviews, as the lowest scoring county with more than one soft play centre. Surrey managed to score an incredibly low 0.3 as it only incurred one negative review between three soft play centres.
Though some counties in Wales find themself in the 10 worst reviewed centres in the UK, three Welsh counties managed to tie as the sixth cleanest centres, only averaging one negative review per centre. Flintshire, Powys, and the Vale of Glamorgan have all been rated as good places to take children for a visit to a soft play centre.
Cumbria and County Derry appear next to share the title of the ninth best reviewed locations with an average of 1.5 negative cleanliness reviews per centre.
Counties with the worst-reviewed soft play centres
To discover which soft play centres are the most unclean according to the reviews of visitors we searched for key terms amongst the reviews including: dirty, smelly, and disgusting.
Breaking it down country by country we found that Wales has the worst rated soft play centres in the UK averaging 7.9 negative reviews per centre, and England is the second worst averaging 7.7. Northern Island on the other hand scores a more respectable 4.8 and Scotland emerges as the best rated country, averaging just 4.1 negative reviews per centre.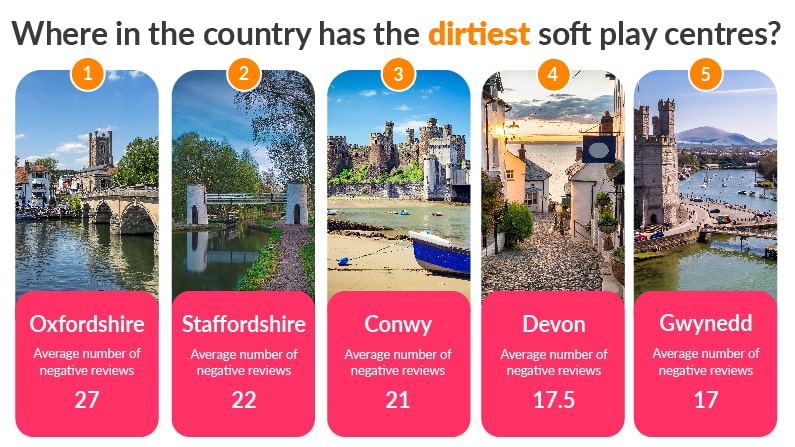 1: Oxfordshire, 27 average number of uncleanliness reviews
Oxfordshire is home to the soft play centre with the most unclean reviews, averaging 27. The county only has one soft play where 15 reviews described it as dirty, with a further 8 calling it disgusting, and 4 people thought that it smelled bad.
2: Staffordshire, 22 average number of uncleanliness reviews
Staffordshire has two soft play centres which have very different reviews. One in Newcastle under Lyme had eight poor reviews, whereas the other was the second worst reviewed in the UK with a colossal 36 negative reviews, with 25 reviewers believing it to be dirty. This gives Staffordshire an average of 22, making its soft plays the second worst reviewed in the country.
3: Conwy, 21 average number of uncleanliness reviews
Home to the 3rd worst reviewed soft play centre in the country is the small North Wales area of Conwy, with its only centre receiving 21 unclean reviews. Visitors believed that this soft play area was both dirty and smelly, and unfortunately for the people of Conwy there are no other alternatives in the region.
4: Devon, 17.5 average number of uncleanliness reviews
Both of Devon's entrants rank in the top 30 worst reviewed centres in the UK which contributed to an average 17.5 poor cleanliness reviews for the county.
5: Gwynedd, 17 average number of uncleanliness reviews
We return to North Wales for the fifth worst ranked area for soft play upkeep. The County of Gwynedd scored an average of 17 from its two centres. It is also the region with the biggest difference between quality of soft plays with one having absolutely no negative reviews in relation to uncleanliness, whereas the other scored a whopping 34 ranking it as the fifth worst kept centre in the country.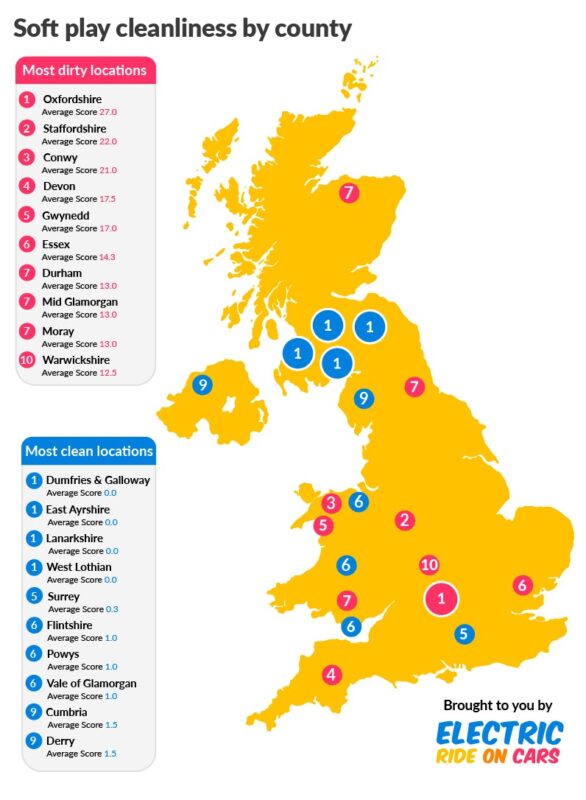 Methodology
We went through Tripadvisors national 'play area' section and picked out the soft plays from this list.
We disregarded any with fewer than 20 total reviews.
In the reviews we searched for these key terms: 'dirty, smelly, and disgusting'. We then counted the number of each for each centre.
We then found an average score for each county of the country by dividing the total score by the number of centres in that county.