The best and worst of the Disney remakes
Disney has been a favourite of kids and adults for generations, with some of the classic animated movies dating back over 70 years. In recent years, Disney has brought us a number of new and much-loved stories as well as some remakes of our favourite classics.
However, some remakes seem to be far more popular than others, with some not quite living up to the reputation of the original.
We may be experts in kids electric cars, Disney ride on toys and Disney bikes, but we still find time in our busy schedules to watch all the latest Disney releases, so we wanted to find out which Disney remakes are the most successful and which fall short of the original magic.
The best Disney remakes
Taking into account the domestic box office takings as well as scores given by critics and audiences, we have discovered the most successful Disney remakes, awarding a remake score out of 10.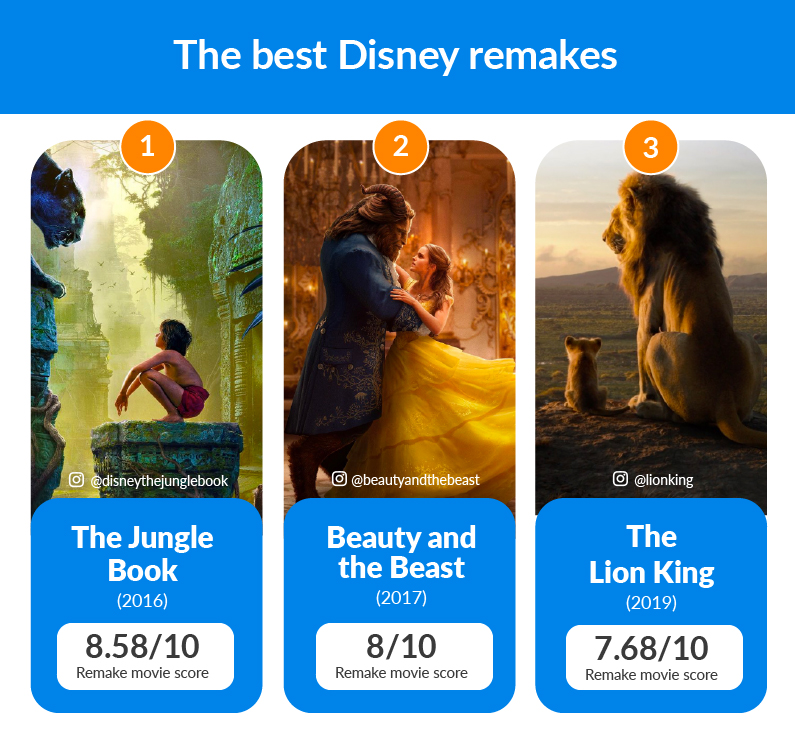 1. The Jungle Book (2016) 8.58/10
Directed by Jon Favreau, this live-action adaptation of the 1967 classic takes the top spot as the ultimate Disney remake. Taking $385 million at the box office and getting rave reviews from critics and audiences alike, this movie is worthy of its all-star cast, with voices such as Idris Elba, Scarlett Johansson and Lupita Nyong'o.
2. Beauty and the Beast (2017) 8/10
In the number two spot is another live-action adaptation of an animated original. Directed by Bill Condon and starring Emma Watson and Dan Stevens in the leading roles, Beauty and the Beast thrilled audiences with a Rotten Tomatoes audience score of 80%.
3. The Lion King (2019) 7.68/10
Rounding out our top three is another recent live-action remake of an all-time favourite. It looks as though Jon Favreau is the king of Disney remakes as he takes another director credit for our top scorers. This top scorer featured an incredible cast with the voice talents of the likes of Donald Glover, Beyoncé and even James Earl Jones who reprised his role of Mufasa.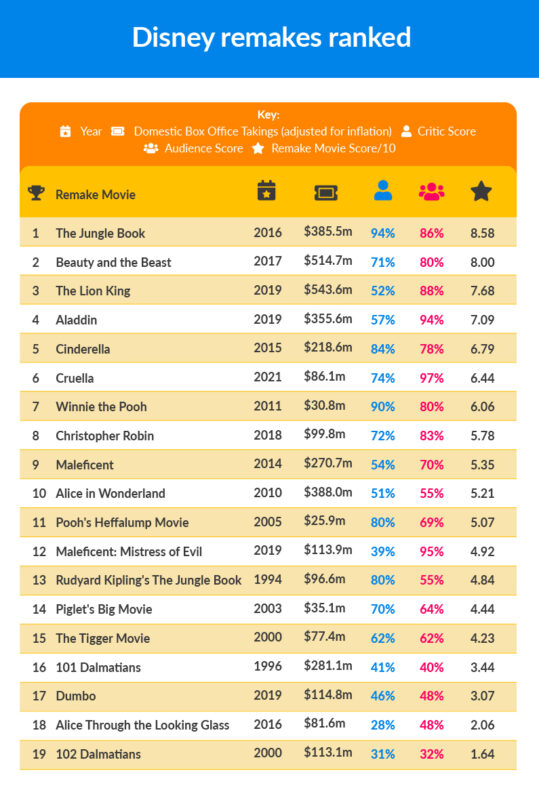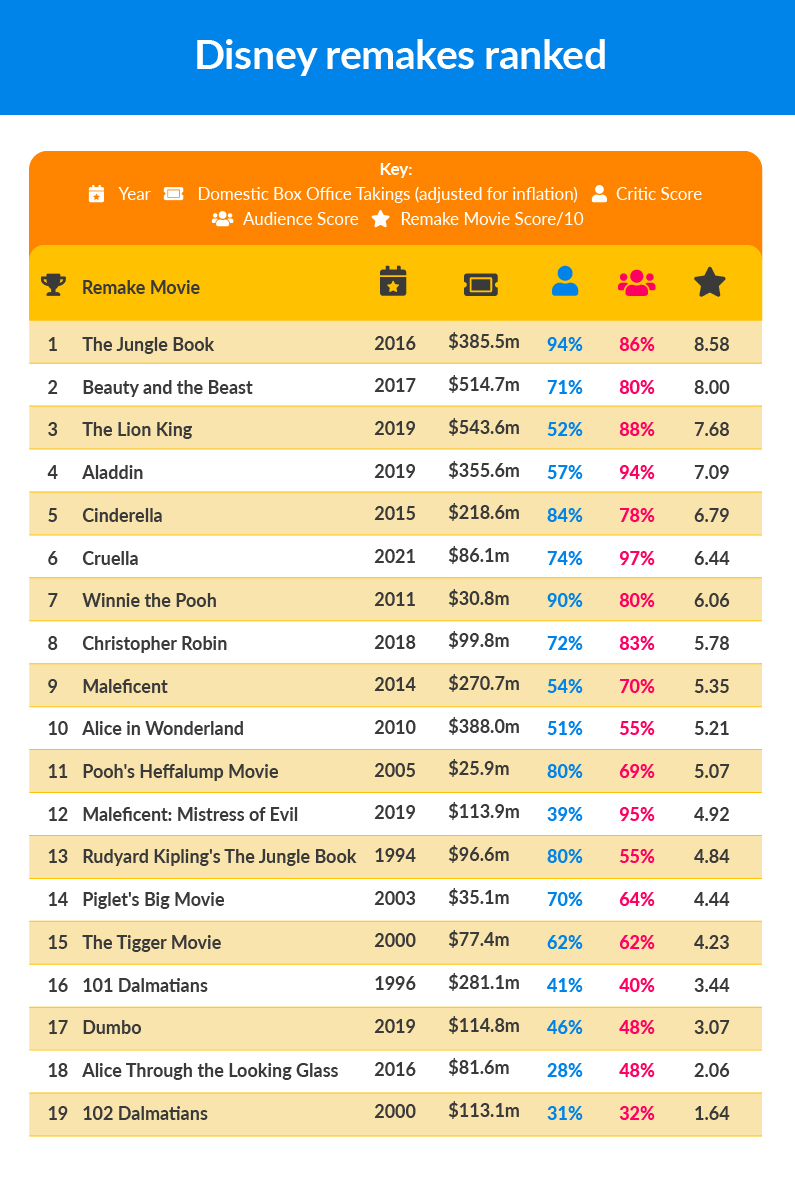 The most popular Disney remakes
When we look just at the critics' and audience ratings, we're able to discover which movies were the most popular when compared to the original.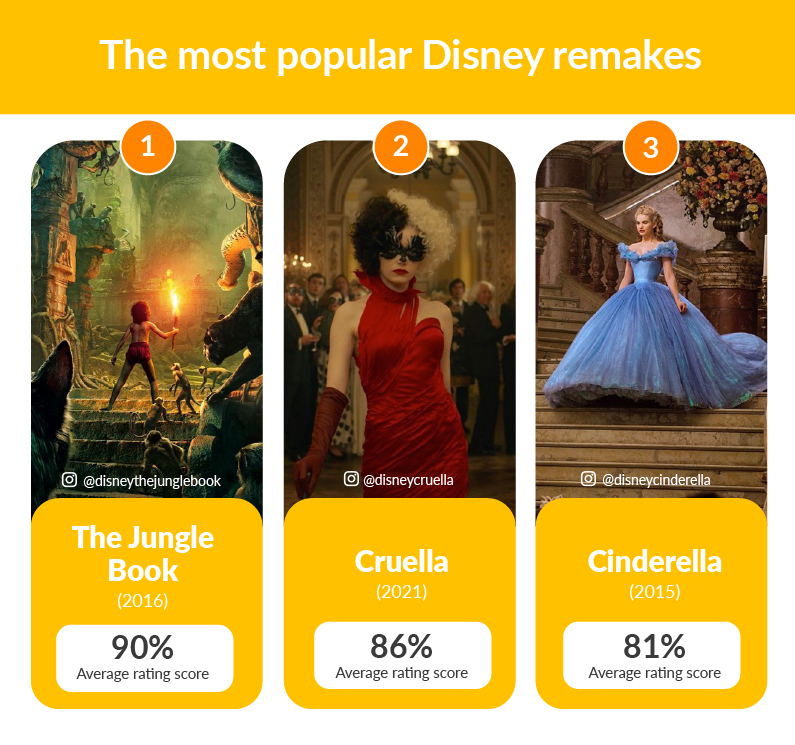 1. The Jungle Book (2016)
Again, this live-action adaptation topped our charts as the most popular Disney remake. It was so well received that it gained an impressive Rotten Tomatoes critic score of 94% and an audience score of 86%. This was the only movie on our list that had a higher average rating than the original. The 1967 movie has an average rating of 85% while this adaptation averages at 90%.
2. Cruella (2021)
This may be a newcomer to the library of Disney remakes, but it has already proved particularly popular with audiences, scoring a near-perfect 97% from audiences. Although, the critics aren't quite as impressed, giving a respectable rating of 74%. While the 1961 original, One Hundred and One Dalmatians scored an average of 87%, this adaptation dropped slightly with an average rating of 86%.
3. Cinderella (2015)
As one of the most iconic fairy tales, Cinderella has been the subject of a number of adaptations over the years, but Disney's 2015 live-action remake is one of the most popular with an average rating of 81% which is just 8% behind the average score of 89% awarded to the 1950 original.
The worst Disney remakes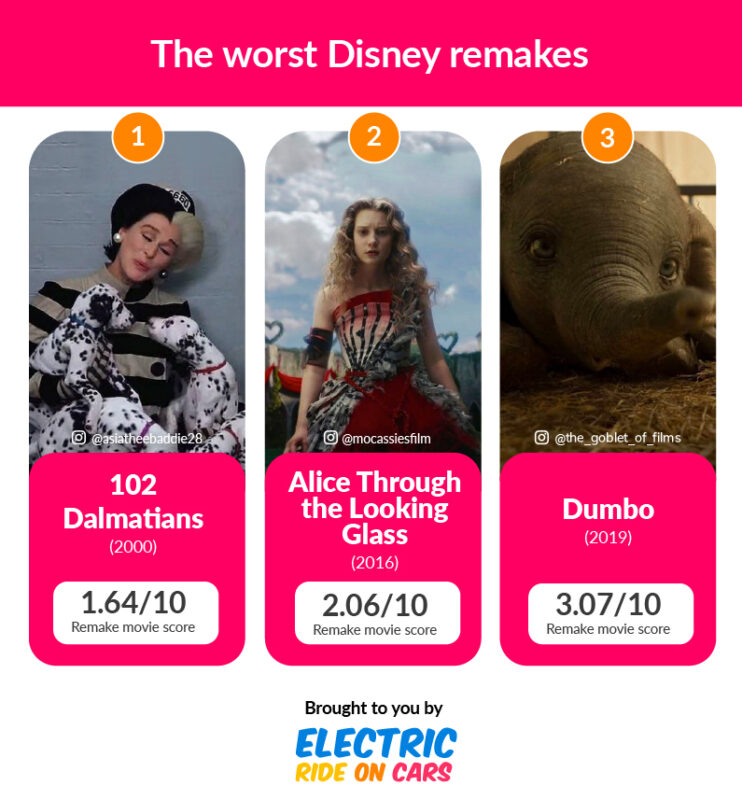 While Disney has made some great adaptations, not every remake is a hit. In fact, some are pretty unpopular with critics and audiences alike.
1. 102 Dalmatians (2000) 1.64/10
The 1961 original was particularly popular with critics, but the 2000 movie fell way short of the movie that inspired its creation. While it managed to make $113 million at the box office, the ratings were poor, scoring 31% from the critics and 32% from audiences.
2. Alice Through the Looking Glass (2016) 2.06/10
This Tim Burton adaptation was released in 2016 and was met with an underwhelming response. Making just $81.6 million at the box office and getting a measly 28% from critics, this wonderland adaptation was less than wonderful.
3. Dumbo (2019) 3.07/10
While Jon Favreau featured twice in the top remakes, Tim Burton takes two unenviable spots in the bottom three. His 2019 live-action adaptation of the 1941 original fell flat with a Rotten Tomatoes critics' rating of 46% and an audience rating of 48%.
Methodology:
We looked at Disney's remakes and adaptations of Disney films according to a list from Wikipedia. This means that we did not consider remakes made by other studios.
Using this list, we found the domestic box office takings for the remakes which were adjusted for inflation from The Numbers.
We also used critics ratings and audience ratings from Rotten Tomatoes.
To rank these movies, we gave each of these three factors a normalised score out of 10 before taking an average of all these scores to give a final movie score out of 10. In the main ranking, we omitted movies without box office data which included Lady and the Tramp (2019), Cinderella (2021) and Mulan (2020).