When the sun bathes the garden in a warm glow, there is no greater joy than hearing your children's laughter filling the air as they take part in outdoor play.
There are some great options for your little ones to make the most of the outdoors, and among the array of outdoor toys, garden ride-on toys stand out as some of the most beloved playthings. They allow children to foster imagination, learn coordination, and, most importantly, have fun.
In this blog, we'll look at some of the top garden ride-on toys on the market to help you pick out the best kids electric car for your little one.
The best ride on toys for grass or the garden
Does your child fancy themselves as a bit of a racer? This Electric Ride On Kids Drift Go Kart is a delightful ride for kids looking for a proper karting experience.
Perfect for the garden or the racetrack, you can't go wrong with this powerful motor.
The Kids Drift Electric Go Kart is a 24v ride-on car with dual motors, forward and backward gears, front rubber tyres, and plastic rear wheels to help provide an excellent drifting experience.
This fantastic electric go-kart for kids is now available in three cool colours: red, blue, and white. Suitable for kids from 4-10 years old, this cool kart has a maximum speed of 13kmph.
This is a fantastic ride on car for kids to ride, so much so you might even want to get involved as parents!
This superbly crafted old-school classic will surely put a smile on your child's face. This classy Mercedes ride on car is manufactured of high-quality, safe, and certified materials. This voyage is made elegant and comfy, with room for two in its leather seating.
Kitted out with features like an FM radio, an MP3 player and a USB card interface, this automobile will make all journeys easier and more enjoyable for your children.
Does your child see a future in law enforcement? Well, look no further with this nifty little police cruiser. This small but mighty car has some immersive features, including switch-activated headlights and dashboard lighting, to make your little one feel like they're really out fighting crime! It also comes with working doors and a seatbelt to keep them belted in, making getting in and out easier on those intense pursuits.
With forward and reverse gears and single-pedal speed control, your child can navigate the terrain like an expert.
Your child is sure to enjoy this police ride on car, saving the day and apprehending all the bad guys out in the garden. This car will bring high-speed police chases to life, complete with realistic lights and sounds like a genuine police car.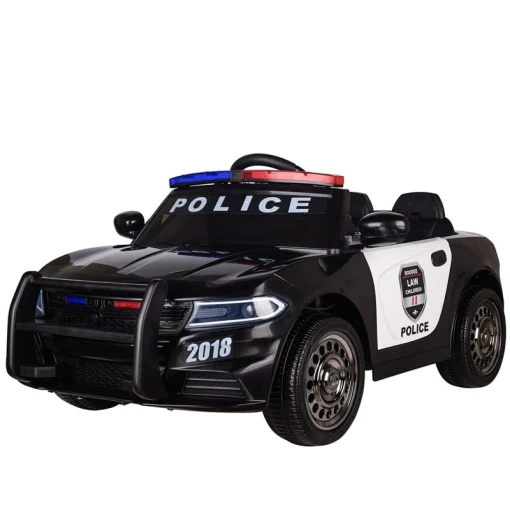 Does your child have a passion for the great outdoors and agriculture? This brand-new electric tractor for kids comes kitted out with a trailer to make their outdoor play all the more exciting.
This reliable motor has the power to run a farm, propelled by two 25w motors and a 12v battery. The tractor also includes a parental remote control, enabling parents to control the automobile for younger children who cannot control it themselves.
This ride-on tractor is sure to add excitement to any child's playtime while also taking them on a pleasant outdoor excursion. The trailer is a great addition for them to get creative and take extra toys and tools on their adventures.
The tractor comes in a choice of either green or pink, working as the perfect ride on car for any little one looking to get their hands dirty!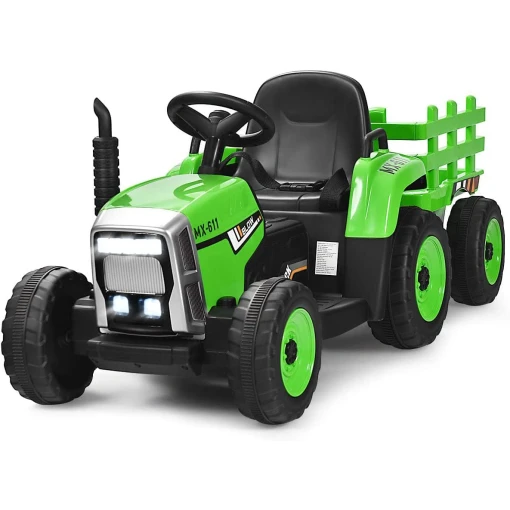 If you're looking for outdoor toys perfect for rough terrain, look no further. Your little ones are guaranteed a smooth ride over any terrain with the spring suspension of these quads.
Our fantastic 6V Kids Electric Quad Bikes are perfect starter cars for young toddlers looking to explore vehicles. The Kids Electric Quad bike has a 20W motor with a top speed of 3kmph, making it an undaunting ride for any youngster looking to get involved. With a maximum weight capacity of 30kgs, this quad bike is suitable for children aged 2 to 4.
These Electric Quad Ride On Bikes are built with kids in mind and are very easy to use; the forward accelerator button is easily accessible, the handlebar is comfy, making it easy to steer and control, and the large wheels provide your child with the stability they need when playing.
Take a look at the rest of our kids' electric quad bike range, or explore our guide on the best electric quad bikes for kids.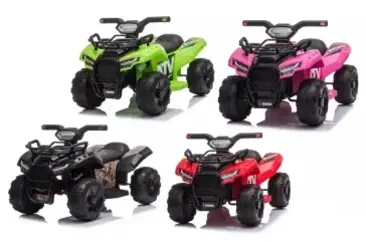 Of course, we couldn't mention all of these 4-wheel motors without mentioning other ride-on toys sweeping the market. Say hello to the G11 Hoverboard.
The G11 is an excellent choice for anyone looking for a fun and exciting way to travel around. The Gyroor G11 Hoverboard will be the envy of your child's friends, with a colourful glowing pedal hoverboard and unique LED lights that flash as they ride.
And that's not all; the manufacturers over at Gyroor were set on making this a luxury experience with a built-in high-quality Bluetooth speaker and Bluetooth App, which allows you to check the power, adjust the lights, alter the riding mode, failure analysis, and much more.
If you plan on purchasing a hoverboard for your child, find out how hoverboards work or explore our guide on how to ride a kids' hoverboard.
What makes a great ride on car?
When it comes to finding a great ride on car that your little ones will love driving, there are certain features to look out for.
High-quality wheels: These are essential if you plan to use the cars off-road on rough terrain, uneven surfaces or wet grass. A good set of rubber or plastic wheels will help the car navigate smoother and easier over rough surfaces.
Adjustable seatbelt: This one is massively important for younger riders, such as children aged 1 to older toddlers. A strong seatbelt will give them safety and the parents peace of mind during play.
Power lock brakes: Especially for cars with a little more speed behind them, a power lock brake system can help ride on cars come to a reliable halt to avoid any unnecessary collisions.
Working horn: Just like in the real world of driving, you have to let people around you know that you're there! A working horn adds to an authentic driving experience and lets people around you know that you are driving.
You don't have to stop with what comes with the car, either! You can add many amazing features and ride on car accessories to your car to make it the talk of the town.
The benefits of ride on toys
Ride-on toys offer a wide range of benefits for kids, contributing to their physical, cognitive, social, and emotional development. Here are five key benefits that you may not have realised before
Physical development: Ride-on toys encourage physical activity and exercise, helping children develop their motor skills, balance, hand-eye coordination, and muscle strength.
Exercise and healthy habits: Outdoor play and ride-on toys provide a fun way for children to burn off energy and engage in physical play, giving parents a more relaxed home life. Find out more by reading our blog about the benefits of playing outside for kids.
Independence and confidence: Kids love to navigate their surroundings independently, promoting a sense of independence and self-confidence.
Social interaction: Heading to the park to play with ride on toys enables children to meet and socialise with other kids, building their communication skills.
Incorporating ride-on toys into a child's playtime routine offers many advantages that support their overall development and well-being; you can read more about the benefits of ride on toys with us.
With a range of cars available, choosing toys appropriate for the little one's age, size, and developmental stage is important to ensure a safe and enjoyable experience.
If you're unsure about how suitable a ride on car is for your child, be sure to ask one of our experts.
Discover more outdoor toys with Electric Ride On Cars
Here at Electric Ride On Cars, we set high standards for our toys to ensure our customers have the best experience possible. All of our ride on cars are selected with the child in mind so they can play in a vehicle that makes them safe and comfortable while having fun outdoors.
We understand that there are many toys to choose from, from cars to scooters to bikes, and we're here to help. If you have any questions, be sure to contact one of our experts to help you make an excellent choice.
FAQs
Can you leave ride on toys outside?
Keep your electric ride-on toy indoors and out of the elements. Leaving it outside, particularly in the rain or snow, will cause rust and damage to the electrics, which could break your kid's power wheels vehicle and put an end to their driving fun.
What should I look for in a ride on toy?
Whilst every child is different, there are a few things you should consider every time you look for the perfect ride on toy for your child:
Ensure it has features for added safety, i.e. seat belts, bright LED headlights, robust plastic tires and a parental remote control.
Consider toys that promote development.
Choose high-quality toys that will last.
Consider smaller toys if you have limited space.
Choose age-appropriate toys designed for older kids and larger children.
Are ride on toys worth it?
A ride on toy has many developmental benefits for toddlers and younger children. If you choose the best model of ride on toy, your child will have lots of fun while developing essential skills like balance, coordination and motor skills. Find out which toys are best for gross motor development with help from our blog.
Do ride on toy cars encourage imaginative play?
With a ride on toy car, kids (especially older children) can experience the thrills and spills of the race track from the safety of their own house or garden. Whether they want to follow in the footsteps of their favourite high-speed racing driver or embark on an off-road adventure across uneven terrain like a dune racer, the realistic design of a ride on toy will be sure to set their imaginations alight
Can kids use ride on toys in winter?
We do not encourage driving or keeping the toys outside in winter weather since rain and snow might cause harm to the electrical components and battery. Always keep your ride on cars protected and fully watertight to avoid any unwanted mishaps. If the weather is fine in the winter, you can let your children play with their ride on toy car; just make sure they are wrapped up warm in suitable clothing.